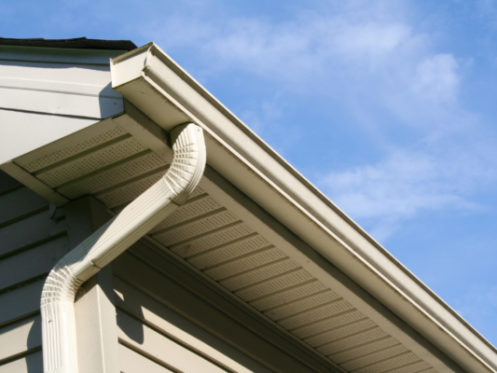 The average residential gutter system lasts about 20 years, but the expected lifespan of your particular gutters can be as short as 10 years or as long as 100 years. It comes down to the materials used, the design of the gutter system, and the installation process. It is also important to recognize that these estimates are made based on some assumptions, such as the right gutters were chosen for the climate and the gutters will receive ongoing cleaning and maintenance over that period. The good news is that if you do take the necessary precautions, your gutters can easily surpass the average life expectancy.
Seamless vs. Sectional Gutters
Seamless gutters last longer than sectional gutters. The reason sectional gutters have a shorter expected lifespan is that they are sold in shorter prefabricated sections. That means that there are many more joints in a sectional system that need to be sealed. Those seams allow more room for human error and also subject the system to more wear and tear over the years.
Whereas basic sectional gutters last 10-15 years, basic seamless gutters last 20-25 years. The reason seamless gutters last longer is that we fabricate them on your property using a roll-forming machine. This means that the gutters can be formed and cut into long sections based on the unique dimensions of your home. Joints are only required where absolutely necessary, such as at corners, and they can be reinforced. Seamless gutters do cost more to install, but the longer lifespan results in a lower total cost of ownership.
Gutter Materials
The materials that the gutters are made from play an important role in life expectancy as well. Vinyl gutters, for instance, are among the most inexpensive on the market, but they only last about 10 years in certain climates. Aluminum is among the most popular materials for gutters and will generally result in the life expectancies mentioned above. This is true of galvanized steel as well. If you want a gutter system that can last longer than that, you might want to consider copper. Copper gutters can easily last 50 years with regular maintenance and can last more than 100 years in the right conditions.
Select the Right Gutters for Your Climate
Your climate will play a role in life expectancy as well and should inform your choices. Vinyl gutters are an appealing option for homeowners in dry, mild climates as they can actually last for 20 years, but that is unlikely in Connecticut where our customers live. Deeper and wider gutters will cost more. But they may be necessary based on your average rainfall, and those choices will certainly help your gutters and your roof last longer. Based on your property, you may need to invest in downspout extenders or diverters that allow the water to be channeled an appropriate distance from your foundation.
Invest in Heavy-Duty Hangers
Gutter hangers are a component of all gutter systems that are easily overlooked by homeowners but which are integral to gutter life expectancy. Gutters are subject to a great deal of abuse. During heavy rainfall, they are under significant pressure, and the hangers need to withstand that pressure. Inadequate hangers result in one of the most common gutter problems, which is gutters pulling away from the house. Do not assume that your gutter installation company will use heavy-duty hangers. This is one of the most common areas in which less reputable companies cut corners in order to save a buck.
Choose Your Gutter Installers With Care
Most gutter problems are due to installation defects. There are many gutter companies out there that offer unrealistically low prices, and you get what you pay for in terms of materials and attention to detail. Choose a company that is established in your area and has earned a reputation for superior craftsmanship and excellence in customer service and care. The contractor you hire should answer all your questions, explore your options with you, help you choose the best gutters for your home and climate, then install your new gutters in a meticulous manner using heavy-duty hangers, joint reinforcements, and so forth. You should also look for a warranty that covers not only the materials but also the labor, as installation defects are much more common than material defects.
Have Your Gutters Inspected and Cleaned Twice a Year
The typical reason that gutters don't last as long as they should is that usual wear and tear is not corrected and develops into a more substantial problem. The general recommendation is that you hire a professional to inspect and clean your gutters twice a year. Schedule one appointment in spring before the heaviest rainfall of summer. Schedule another in autumn after the majority of leaves have fallen from the trees on your property. Any minor issues with joint seals or reinforcements will be identified and can be corrected before developing into more expensive problems.
Consider Installing Gutter Guards
Most gutter experts recommend that homeowners consider installing gutter guards. These guards can be installed with your new gutter system, or you can have them installed after the fact. The guards provide a barrier that does not impede the flow of water as the roof sheds. They do prevent leaves, dirt, pine needles, and other debris from accumulating in the gutters, though. They also make the gutters less desirable to birds, squirrels, and other small critters in your neighborhood. Gutters with guards are much less prone to blockages and thus last longer. Gutters with guards also require less cleaning. In fact, you'll generally only need to have your gutters cleaned every two years or so. Gutter guards often pay for themselves over the life of the gutter system.
Watch for Warning Signs, and Be Proactive
While we recommend a professional inspection twice a year, as a homeowner, it's a good idea to perform a cursory inspection at least once a month and whenever you are out doing yard work or whatnot. Look for signs of overflowing water, such as streaking on the gutters or siding. Watch for signs of leaks, which may be indications that water has pooled near the foundation. Inspect the gutters for sagging areas, sections that are pulling away from the house, dents, rust, and fasteners that are missing, loose, or broken. If you notice any of these issues, you should call your gutter company as soon as possible to come out and fix them.
Your Local Gutter Experts in Monroe
At CMW Roofing & Siding, we are a fully licensed and insured roofing, siding, and gutter company, and we have been serving Monroe, CT and the surrounding areas for more than a decade. The core pillars of our business are honesty, integrity, and professionalism. Our company performs roof tear-offs and re-roofing. We also design customized gutter systems, including gutter guards. Our team is available for gutter inspections, gutter cleaning, and gutter repairs, and we also install vinyl siding and shake and shingle siding. Call us at CMW Roofing & Siding today or contact us online to schedule an estimate or get additional information about the products or services we offer.