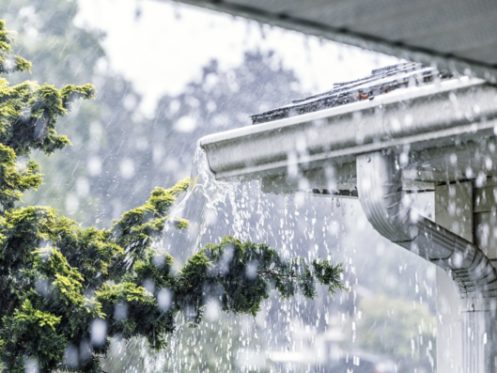 How Often Do Your Gutters Need to Be Cleaned?
The rooftop drainage system on your Monroe, Connecticut home takes a veritable beating from the natural elements. Not only does it catch and carry both rainwater and snowmelt, but it's also a catch-all for everything that falls from nearby trees. Although cleaning gutters isn't an easy or enjoyable task, it is an important part of your ongoing property maintenance. Moreover, it should be performed at least twice each year. If you don't currently have a schedule for cleaning your gutters, now is the time to establish one. Following is everything you need to know about creating a needs-specific plan for keeping your rooftop drainage system in excellent condition.
Why Do Gutters Have to Be Cleaned at Least Twice Each Year?
Gutter cleaning is best done immediately after all nearby tree debris falling has occurred. In autumn, any trees that have grown over your roof will drop their leaves, pinecones, needles, and dry twigs. In spring, blossoms and other fallen foliage will find their way into your gutters as well. Thus, the best times to hire a professional to clean your gutters are in early to mid-spring and just before the start of winter.
These visits precede the start of heavy precipitation. If you stick to this schedule, you'll have clean gutters just before the spring rains hit and just before snowmelt occurs.
Keep Dead, Decaying Matter From Creating Habitable Conditions for Pests
There are other benefits to having twice-yearly gutter cleaning performed. Not only will your gutters be better able to route water away from your roof and into your downspouts, but they'll also be less likely to attract critters. Heavy accumulations of damp, decaying matter can attract ants, mosquitoes, and many other insects and animals to your roof. These bugs can thrive in the wet, organic materials that trees drop. For some, they're excellent sources of water and food. For others, they offer the ideal breeding grounds.
If you're currently working with a local pest control company to establish a preventative pest management plan, cleaning out your gutters is probably at the top of your list. Decaying twigs and other forms of cellulose on your rooftop can draw termites to your home and greatly increase the risk of many other serious and all-too-common infestations.
Why You May Need to Clean Your Gutters More Frequently
Certain types of trees make it necessary to clean gutters more often. For instance, if there are lots of pine trees on or around your property, your gutters likely collect quite a few pine needles. If they aren't cleared out in a timely fashion, larger, heavier pinecones can start to weigh your gutters down. Nearly all conifers or cone-bearing trees necessitate frequent gutter cleaning. In most cases, it's best to check and clean your gutters about once every three months if there are conifers nearby.
Frequent gutter inspections and cleaning are also necessary for homes that sit on properties with fruit trees. Even before their fruits come in, fruit trees can shed large amounts of leaves and blossoms. The extra weight that their branches are subjected to can also cause small, dry twigs to snap off. Thus, it's a good idea to check your gutters at the start of spring, in the middle of spring, and at spring's end if you've got fruit trees. If your trees bear fruits that ripen in mid-summer or at summer's end, you'll want to pay extra attention to your gutters at these times too.
The Birds and the Bees
There are other environmental factors that can affect your gutters. For instance, you may live in a neighborhood with a large bird population. It's not uncommon for birds to build nests in or near gutters, and these can result in total blockage. Given that they're almost constantly moist, the interior of your gutters can also attract bees, wasps, and hornets. Regular cleanings will limit the likelihood of their nests too. They'll also help you identify developing nests and have them removed before populations boom and someone gets stung.
Annual Roof Inspections and Gutter Cleaning
It's also important to schedule an annual roof inspection. These inspections give roofers the chance to spot and resolve minor and developing issues before they have the chance to undermine the integrity of the roof's substrate, which can cause water damage to the building interior, and allow mold to form and proliferate. A comprehensive roof inspection will include a review of your gutters and downspouts to verify that these features are intact and capable of routing water away from your property.
If you schedule your annual roof inspection in mid-spring, we can clean your gutters out while we're there. Apart from any debris that collects from fruit trees or conifers, this will leave you with just one more gutter cleaning to schedule for the year.
Gutter Covers and How They Impact Gutter Maintenance
There's an increasingly diverse range of gutter protection systems available for residential installation. You can protect your gutters and limit your gutter maintenance with everything from covers to brushes. These accessories can extend the lifespan of your gutters, reduce your ongoing maintenance costs, and make your life easier all around. However, they do not negate the need for regular gutter inspections. Even with these systems in place, it's still important to have a professional roofer examine your gutters annually and eliminate any debris that's managed to bypass these accessories.
Signs You Aren't Cleaning Your Gutters Often Enough
If you're already cleaning your gutters twice a year but are still experiencing property damage around or at the base of your roof's drainage system, you probably need to step your maintenance schedule up. Birds' nests, large colonies or swarms of termites, ants, or mosquitoes, and a high prevalence of bees are just a few signs that you're making your gutters too habitable. Other signs of dirty gutters include:
Progressive driveway damage
Foundation problems
Dying grass
Ice build-ups
Gutters that are pulling away from the building
Problems with moss and algae
Advanced shingle deterioration
Gutters that are filled with obstructions tend to overflow before the water has the chance to reach the drain spots and get routed away from the property or towards landscaping drains. This leads to over-watered grass, constantly saturated concrete, and the proliferation of fungi and other growths. Too much water in the wrong places on your property is always problematic.
Heavy debris can cause your gutters to start pulling away from the building. If your gutters look or feel loose, they may need to be cleaned and they need to be repaired. In the short term, this is an issue that will significantly detract from your home's curbside appeal. In the long run, it can cause a host of serious property damages.
Although roof shingles aren't designed to last forever, they shouldn't start warping, buckling, or pulling away from the building early in their lifespans. These roofing components shouldn't start shedding their granules until it's time for your roof to be replaced. If your roof is aging at an accelerated rate, dirty gutters could be the reason why.
For more than a decade, CMW Roofing & Siding has been providing reliable roofing services to residents of Monroe, Connecticut, and the surrounding areas. We also offer vinyl siding and gutter maintenance services. If you need help keeping your gutters clean, we've got you covered. Call us today to get started!