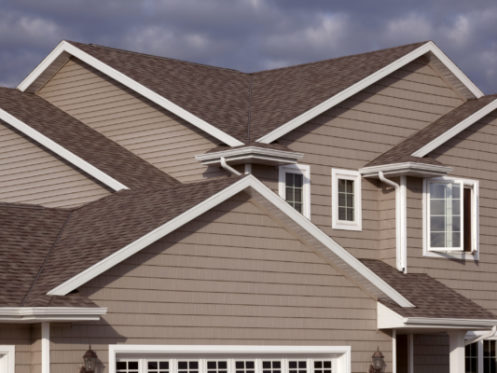 Since the 1950s, vinyl siding has been used on American homes. This material has improved over the years to add longevity and physical appeal to the exterior of your home. From a wide variety of texture to colors, today's improvements allow you to use vinyl siding to create a look that is uniquely yours.
While vinyl siding is considered one of the easiest materials to install, using a professional installation service ensures your home is protected by quality work that can last for decades.
What Is Vinyl Siding?
Vinyl siding is made of plastic polyvinyl chloride resin. This exterior siding is waterproof and is flexible enough to imitate wood siding without the added cost. Panels come in horizontal and vertical designs.
When deciding whether to have vinyl installed on the exterior of your house, look for a high-quality grade for thickness and durability. For inspiration, you can look at homes from other jobs completed by an expert installer.
What Makes Vinyl Siding a Better Option Over Wood Siding?
Traditionally, wood siding was used to cover most houses. Some homes even featured painted wooden clapboards. These materials looked beautiful but came with a lot of problems.
For example, wood siding requires more maintenance than vinyl siding. Additionally, you can expect to replace or repaint wood siding very often. Furthermore, you will need to regularly check the wood for fading, warping, cracking, and rot.
Unlike vinyl siding, you may need to repaint wooden clapboards to cover up peeling, cracking, and fading within a year of installation. Even after these potential issues, you still need to worry about termites.
Choosing vinyl siding means you can have the beauty of wood siding without the drawbacks. Your home is free from cracks, stains, warping, and other problems that come with wood siding.
The Benefits of Vinyl Siding
Whether you want to upgrade your home's exterior with a traditional or modern look, vinyl siding can add new life to your residence. Here are six key benefits to consider.
1. Vinyl Siding Costs Less Than Other Siding Material
Compared to other types of siding such as brick, stone, steel, or wood, vinyl is usually a more affordable option to install. The difference in savings for material and labor costs is up to $10,000 or more.
If you have a tight budget or do not want to spend too much but still want a fantastic-looking home, vinyl siding is a good choice.
2. You Can Personalize Your Home
Painting the exterior of your house whenever you want a fresh look is an expensive undertaking. To get the best results, you'll need to hire professional painters, who may take a long time to finish the project. During the long painting process, you'll also face disruptions to your daily routine.
Furthermore, wood siding requires frequent repainting to uphold the original look. In contrast, vinyl siding is an easier option to not only change the color of your home but also add a personalized flare for a fraction of the cost.
Because it is made of plastic resin, vinyl siding can come in a variety of styles and colors. Resin is sturdy enough to hold its original color, so you never have to repaint it.
If you change your mind, it is just a matter of purchasing new siding for a different color. No paint job is necessary. Simply choose the new look you want and switch out the siding to express your personal style.
Additionally, you can get vinyl siding in different cuts to create decorative patterns. Vinyl is versatile enough that you can achieve a wood grain look minus the excessive maintenance costs associated with wood.
3. Vinyl Siding Is Easy to Clean
If you are spending a lot of time and effort to keep the exterior of your home clean and damage-free, make the switch to vinyl siding. The slick surface makes it easy to remove cobwebs and most debris with a garden hose.
When a professional technician installs the vinyl siding, they may give you some cleaning recommendations based on the type of siding installed. For instance, certain types of vinyl may get damaged by pressure washers.
As a low-maintenance material, vinyl siding requires simple cleaning to remove inevitable mold deposits after rain or storms. You never need to use harsh chemicals or scrubs to keep your home looking great. A good rinse is all it takes to free the exterior of bacteria, dust, and pollen.
Talk with a vinyl siding professional today to learn more about this popular choice with homeowners.
4. Vinyl Siding Is Durable and Long Lasting
Whatever exterior you choose for your home should be a good investment to withstand outdoor elements. The intense sun may change the appearance of wooden siding over time. In contrast, vinyl is a weather-resistant, inspect-proof, and rust-resistant material that can withstand force winds from extreme storms.
A durable and long-lasting material, vinyl siding can remain on your home for 20-40 years without fading, cracking, or peeling. If one or more panels do become damaged, you can make individual replacements without redoing the entire house. Proper maintenance adds to the durability of vinyl siding.
5. Installation Is Easy
Compared to wood siding, vinyl siding is easier to install. The panels come with pre-drilled holes that make them easy to fit on studs. On the other hand, installation of other types of sidings can be a long and complicated process that can interrupt your family's lifestyle.
The installation process is also made easier by hiring a professional siding installer. Doing so ensures you get a quality job.
6. Vinyl Increases Your Home's Value
If you decide to sell your house tomorrow or 10 years from now, installing vinyl today can greatly increase its value. Typically, home buyers want a house that lasts and does not come with high maintenance costs.
In most cases, siding warranties can be transferred to new homeowners. This will relieve their worries if something happens to the exterior soon after closing the deal. Also, you can expect to see a high return on your investment.
7. Vinyl Siding Is a Great Insulator
Think of vinyl siding as a blanket of protection for your house year-round. Vinyl can protect your home during extreme temperatures. It does so by reflecting radiant heat to lower your energy bills during the summer and winter months.
Insulated vinyl siding can reflect the sun's rays and keep your home cool during the summer. Likewise, vinyl insulates your home to keep you and your family warm during the winter, which can take some of the burden off your furnace or heater from constantly running to keep the entire house warm.
Get a Free Vinyl Siding Installation Estimate Today!
Everybody loves to have a great-looking home. Vinyl siding offers a quick, affordable, and easy way to add a unique appeal to your residence. For the best options in color and styles or new gutters, contact CMW Roofing & Siding to level up your home.
Our professional installers are trained and certified to ensure a good look from a distance and up close. Contact us today for a free quote.