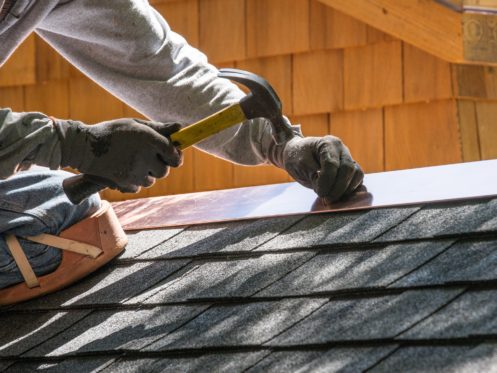 If you have a problem with your roof, it may be tempting to climb a ladder and handle the repair yourself or hire the first roofing contractor that comes to your door, particularly if the problem looks small. Think again!
Your roofing is among the most important aspects of your house, and any maintenance on it is beyond the reach of an amateur handyman. Roofing necessitates specialized knowledge, tools, safety gear, and expertise. Hiring a professional for a roof inspection, repair, and replacement is best. Here are 10 advantages of working with a reputed local roofer to handle your roof work.
1. Skills and Experience
Hiring expert roofing contractors guarantees you several things, the most essential of which is that they will complete the job correctly the first time. Roofing contractors have the skills and know-how to effectively install many different types of roofs without making costly mistakes. You can count on them to figure out a solution around any obstacles that may arise throughout the project without sacrificing the quality of the end product or incurring excessive costs.
On the other hand, your roof will only become more damaged if you let amateurs work on it. This significantly reduces the longevity of your roof. CMW Roofing & Siding understands the intricacies of roof repairs. You may rest assured that your roof project is in capable hands.
2. Right Tools
Another advantage of hiring a roofer is having access to the proper tools and equipment. A utility knife, ladder, and hammer will not be enough to repair the roof. Many roofing operations include the use of various and complicated instruments, which you will most likely not have access to unless you purchase them. Buying all the essential gear will cost a significant amount, maybe more than you would have spent employing a roofer.
3. Everybody Stays Safe
Some homeowners wish to tackle roof repairs themselves. They study do-it-yourself manuals in an effort to save costs and save time. However, the DIY approach is not only risky but also expensive.
Climbing roofs is risky. Anyone can fall off a roof if they don't have experience working up high or the proper safety equipment. Take a moment to imagine that you tripped over a weak section of the roofing or that you abruptly lost your balance owing to poor depth perception. Despite good weather and the provision of safety measures, these things can still occur.
No matter what, the professionals from CMW Roofing & Siding have undergone continuous training and adhere to safety standards, so you can be confident that your loved ones and house will be safe during the roof project.
4. Access to Affordable and High-quality Materials
Professional roofing firms have ties with top roofing suppliers, so they may get high-quality materials and equipment at a lower cost. These savings may be passed on to you, meaning that you don't have to blow the budget to get a premium roof built.
5. Roof Design and Planning
Professional roofers may also assist you with roof design and planning. They employ expertise from a wide range of professionals, including architects and designers. They may also assist you in selecting the appropriate roof materials and colors so that it looks beautiful and complements the exterior of your home. With their assistance, you can be confident that your new roofing will be precisely what you envisioned, with no surprises.
6. Paperwork and Permits
Roof installation is a major undertaking that sometimes necessitates the acquisition of licenses from the local authorities. This might be confusing for homeowners, particularly those who have never dealt with permits, local laws, paperwork, or permits before. Professional roofers are knowledgeable about the procedure and can assist you with each stage, allowing you to relax.
7. Insured and Licensed
Another advantage of hiring a roofer is that they are more likely to be certified and insured, which protects both you and them. This means you can rely on them to perform a fantastic job, and you don't have to be concerned about any mishaps or damage while they're working on the roof.
Any reputable roofing company will have insurance, and CMW Roofing & Siding is no exception. Insurance covers you in case an accident happens while the contractors are working on your roof. If the company didn't have insurance, you could be liable for the contractor's injuries. Also, if anything is accidentally broken during the roof replacement or repair, our insurance will cover the cost of repairs, so you can rest assured that we'll take care of everything.
Furthermore, if the roofer is local, checking their license is a simpler task. You may check their licensing online or, better yet, ask them to present it to you when you sit with them to discuss your project. It will also be easy for you to check their references since they should have satisfied customers in the area that you can contact.
8. Warranty
Another reason to work with a roofer is that you can take advantage of a labor and manufacturer warranty. A manufacturer's warranty protects against any flaws in the roofing product, but a workmanship warranty protects against errors in repairs or installations. Check to see whether your roofing contractor can give both warranties and how long those warranties last.
9. Peace of Mind
Nothing irritates homeowners and business owners more than a chronic roof leak, a high inside temperature, and hefty energy costs. While you may not pay much attention to the roof above your head, it plays an important function in sheltering your family and keeping your household comfortable.
If you own a company or work at home, you understand how important productivity and money are. From the start, work with reputable roofers like CMW Roofing & Siding to avoid the headaches and high costs of premature roofing difficulties. You know what's important to you, so you can discuss your concerns with your technician before the project. Are you concerned about energy efficiency? Are aesthetics important to you? Your roofing contractor can help you address your concerns and give you peace of mind that you're getting the roof that you want.
10. Emergency Roof Services
When a severe storm strikes your neighborhood, you should feel assured, recognizing that you've got a reputable roofer you can call on to repair your concerns as soon as possible. When you don't have a reliable roofing contractor you can count on, you open yourself up to unethical, fly-by-night contractors. Be wary of roofers who appear unexpectedly after a hurricane and purport to be trusted local experts.
Turn to Us for All of Your Roofing Projects
We employ a team of highly skilled professionals that specialize in residential and commercial roofs. We will handle all of your Monroe, CT roofing needs, from roof installation to repairs, and we have the skills and understanding to manage any size roofing project. Contact CMW Roofing & Siding today to get your roofing done the right way.